REHABILITATION AND FIBROMYALGIA SERVICE dr. Francesca Gattinoni
At Blue Medical Center the REHABILITATION AND FIBROMYALGIA service is active for the treatment and rehabilitation of chronic pain, fibromyalgia, incontinence and constipation. The doctor in charge is dr. Francesca Gattinoni.
FIBROMYALGIA AND REHABILITATION SESSIONS
The REHABILITATION AND FIBROMYALGIA service is active at Blue Medical Center for the treatment and rehabilitation of chronic pain, fibromyalgia, incontinence and constipation. The doctor in charge is dr. Francesca Gattinoni. 
The perineal rehabilitation clinic is active. It deals with:
rehabilitation in chronic pain and fibromyalgia;
pelvic disorders (incontinence, constipation, chronic pelvic pain)
A specific sequential program has been implemented, together with  an outpatient clinic which avails itself of a modern, targeted, multi-disciplinary method.
This method consists of group sessions, during which patients, who are followed by highly qualified physiotherapists, do exercises aimed at the attenuation and cure of muscular pain or at the reduction of chronic diffuse pain.
The first course will start in the first half of September. For further information concerning costs and dates, please contact our office directly at number 0438 388438, or send an email to: info@bluemedicalcenter.com or use the contact form you will find below.
The service is active in the gym of Godega di S. Urbano, on road SS13 after Conegliano.
Medical Posturology
Posturology is a relatively recent branch of complementary medicine; it is aimed at studying the human being globally. In the determination of the posture that a patient adopts, numerous structural factors are involved, but great importance is given to metabolic and especially psychic factors. Therefore, in the study of posture these non-instrumental factors cannot be neglected but the patient must be considered from a global point of view.
Aneurysm or steno obstruction of the abdominal aorta
An aneurysm of the abdominal aorta is a permanent distention of the aorta in its abdominal tract, which tends to be progressive under the action of blood pressure, and is due to a weakening of the arterial wall. Within it a thrombus may form, which can detach and be transported by the blood flow and thus obstruct smaller arterial vessels (embolism).
Gynecological prevention
Periodic follow-ups are the best form of prevention: in this sense BLUE MEDICAL CENTER proposes a gynecological prevention plan designed by its specialists.
Physiatrics
Physiatrics deals with the recovery or treatment of the outcomes of various types of diseases: traumatological, orthopedic, rheumatological, neurological, ENT, respiratory, urological, cardiological, dermatological, angiological.
Oxygen Ozone Therapy
Physiatrics and Pain management outpatient clinics
 Doctors in charge: dr. Giuseppe Dal Mistro, dr. Cost'Anto Cavarzerani
Ozone therapy has been used for antalgic purposes from the beginning of the century. It has been experimented in various ways, and, even though in certain disorders it has achieved unexpected therapeutic results, very many physicians still have prejudices against it or are not acquainted with this approach.  Oxygen-ozone therapy is widely used particularly in Germany and Switzerland. In Italy Oxygen-ozone therapy officially started in 1983, with the establishment of the Italian Society for Oxygen-ozone therapy.
CARDIOLOGY OUTPATIENT CLINIC
"
by means of physical examination and, when necessary, a few non-invasive diagnostic tests, it is possible to monitor the state of our heart
"
cardiological examination with electrocardiogram
heart echo color doppler
Holter (ECG monitoring for 24 hours)
Appointments may be booked almost every day of the week; for specific information please call the front desk at the following number: 0438 388437.
[contact-form-7 404 "Not Found"]
OVER 60 GROUP GYMNASTICS
Group rehabilitation is fundamental, as being aware of pain during adequate movements may keep your functions efficient, retarding the negative effects of time, and improving your strength, flexibility and balance, and helping you to keep a good walking capacity.
A good control of posture and good respiratory training as a moment of proprioceptive self-awareness and relaxation become an excellent motivation for exercising.
Group rehabilitation is person-centered with the following aims:
Psycho-social by consolidating self-trust and trust in personal resources; it promotes communication with others through movement; it stimulates attention and memory.
Psycho-motor: in promoting a new body image; spatiotemporal organization is exercised, improving balance, coordination and posture.
Physiological: in order for movement to be efficient it is necessary to increase the strength of the main muscular groups, improving global stabilization capacity, maintaining or increasing joint motility, muscular elasticity and stamina in everyday life.
OCCUPATIONAL MEDICINE
Occupational medicine is the branch of medicine that deals with safeguarding the health and safety of workers in the work environment.
Traditionally it deals with:
evaluating the effects on health of chemical, physical and biological agents to which workers are exposed;
the psychophysical impact that the work environment may have on a subject.
SARS-Cov-2 serological test
Blue Medical Center performs a qualitative serological test, certified CE-IVD, for the search of IgG and IgM immunoglobulins, useful in identifying the presence of SARS-CoV-2 antibodies (Covid 19). With a sample of venous blood it is possible to verify whether a patient has come into contact with the virus. In case of positivity, it is appropriate to contact your doctor.
Thoraco-pulmonary echography (Ultrasound scan)
BREATH CLINIC- THORACO-PULMONARY ECHOGRAPHY
A thoraco-pulmonary echography is one of the diagnostic tests included in the procedure concerning "the study of breath".
This diagnostic test is scheduled together with other tests and always after a lung or ENT evaluation, in cases of dyspnea that may be caused by:
chronic diseases
pneumonia follow-ups (slowly resolving pneumonia)
follow-ups after a COVID 19 infection
obesity
heart problems
A thoraco-pulmonary echography is today an important tool in the diagnosis of pulmonary diseases, and has interesting applications in evaluating a patient with respiratory symptoms and in particular with dyspnea, and in differentiating between cardiogenic and respiratory dyspnea. In these cases a pulmonary echography should be considered an extension of a heart echography, in a comprehensive ultrasound evaluation of the chest.
One must remember that a pulmonary echography can provide determinant information in clinical pictures that are not easy to interpret. In particular, in recent emergency times, it has been used for monitoring the state of:
pleura exudation
pneumothorax
pneumonia
A chest echography is in any case surely indicated in those situations where it is preferable to avoid exposure to ionizing radiations, as in pregnancy and in the pediatric age. (The data obtainable with a thoraco-pulmonary echography can avoid a patient's exposure to ionizing radiations. Irradiation with a thoracic CT scan corresponds to that of about 400 chest X-rays, but even a simple chest X-ray may, in carriers of a vulnerable genotype as the mutation BRCA1-BRCA2, double the risk of breast cancer).
The doctor performing this diagnostic test has received specific training.
Joint Magnetic Resonance
The new department of Diagnostic Radiology at Blue Medical Center has been active since the 1st of December 2020.
The new device ESAOTE O-Scan allows performing the exam in a fast and accurate way, similarly to high field resonance, and above all with patient's comfort thanks to its open ergonomics.
Esaote dynamic Magnetic Resonance is capable of revealing hidden interferences that are difficult or often impossible to visualize with traditional static magnetic resonance.
Functional evaluation provides an added tool in improving  assistance to patients, in particular in the field of professional sports medicine.
Traditional Diagnostic Radiology
The new department of Diagnostic Radiology at Blue Medical Center has been open since the 1st of January 2020.
The new apparatus Esaote DR M40-1A is very light, easy to work and of limited overall size.
It offers quality imaging thanks to its high nominal power independently from the volume of the body being examined.
It optimizes the high productivity dosage of the system thanks to the possibility of using Anatomically Programmed Radiography (APR).
It allows performing most of the traditional radiology X-rays.
SARS-Cov-2 IgG antibody test
Information about the SARS-Cov-2 IgG antibody test
🔵🔵🔵
At BLUE MEDICAL CENTER it is possible to have a blood sample taken for the SARS-Cov-2 IgG II Quant test, the second generation quantitative serological test.
With a venous blood sample, it is possible to evaluate a person's immune state by quantitatively verifying their IgG antibodies (the test identifies the IgG antibodies, including neutralizing antibodies, for the Receptor Binding Domain (RBD) of the subunit S1 of the Spike protein of SARS-Cov-2 in blood and serum samples). 
🔵🔵🔵
Why do the test?
It is useful for monitoring the response and duration of a person's immune response to the vaccine and for evaluating a person's level of antibodies as a result of the natural response of the organism after contracting the virus, thus monitoring the quantity of antibodies over time.

 

It allows monitoring the rate of antibodies after overcoming the disease (so you can understand how immune you are)
It is possible to evaluate an individual's level of antibodies to help in defining the appropriateness and potentiality in case of donation of plasma.

 
At Blue Medical Center the following are also performed:
First generation Abbott fast swabs to verify who has come into contact with the virus.
Molecular swabs using the PCR method to verify an infection in progress. Required by most airlines and useful for people travelling. 
Second and third generation fast swabs, with results available in a few minutes. 
Contact us for information: 0438 388437 
Ortottico
Rapid tampon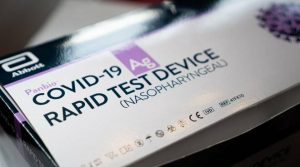 The Abbott PAnbio Covid 19 rapid swabs are now also valid for the verification of the DELTA variant. The result will be delivered within about 15 minutes and the data for obtaining the GREEN PASS will be sent.
The clinics are open every day including Saturdays, reservations can be made via the web.